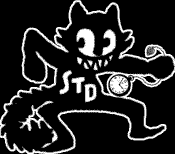 STD 0.1
security tools distribution
MD5: de03204ea5777d0e5fd6eb97b43034cb
Please consider donating.

Home
-
Download
-
Forum
-
FAQ
-
MD5
-
STD Tools
-
Donate
-
Screenshots
-
Contact
-
Links
What
STD is a Linux-based Security Tool. Actually, it is a collection of hundreds if not thousands of open source security tools. It's a Live Linux Distro, which means it runs from a bootable CD in memory without changing the native operating system of the host computer. Its sole purpose in life is to put as many security tools at your disposal with as slick an interface as it can.
Who
STD is meant to be used by both novice and professional security personnel but is not ideal for the Linux uninitiated. STD assumes you know the basics of Linux as most of your work will be done from the command line. If you are completely new to Linux, it's best you start with another live Distro like Knoppix to practice the basics (see faq).
STD is designed to assist network administrators and professionals alike secure their networks.
The STD community is extremely active. Come and join us on the forum here
The STD community is without exception White Hat. This means we will not entertain discussions on ANY illegal or unethical activities. Do Not ask.
Thank you :)
News
24.May.2010 - New Mirror courtesy of oiram.net. See download page. Kudos gents.
13.July.2009 - New Mirror courtesy of splents.com. See download page.
29.May.2009 - New Mirror courtesy of hootworld.net. See download page.
12.Feb.2009 - New Mirror courtesy of The University of Texas at Austin. See download page.
03.Apr.2008 - Mirror list updated
18.Jul.2007 - New Mirror courtesy of University of Crete / Computer Center. See download page.
29.May.2007 - By request here is the S-T-D wallpaper for download.
15.Mar.2007 - New RSYNC server. Many many thanks to Computer Science dept at Virginia Tech!
07.Feb.2007 - Some website typos/glitches fixed.
29.Jan.2007 - New Mirror courtesy of sir-millar.com. See download page.
29.Jan.2007 - Dead mirros removed.
24.Nov.2006 - New Mirror courtesy of Berkeley IT. See download page.
28.June.2006 - FULL site recovery. Site sould be back up now with very little loss of data (a few hours of forum posts).
23.June.2006 - PARTIAL site recovery. Site will be up and down over next few days and fully back up within a week.
11.Apr.2006 - Lots of new mirrors
23.Nov.2005 - Forum ported from phpBB to punBB. No need to re-register all accounts should still be active.
20.Nov.2005 - Donations are now open for STD development costs. Please consider donating.
17.Nov.2005 - Using torrent alone: "Since May the 5th, 2005, Knoppix-STD has been downloaded 25,500 times."!!!
14.Nov.2005 - STD mentioned in Cisco Press book "Network Administrators Survival Guide" (Sept 2005).

Thanks to the Author

Anand Deveriya for letting us know. More here
08.Nov.2005 - All mirrors checked. Dead removed and new added. Thanks to all mirror donators.
07.Nov.2005 - Forum now hosted offsite due to local server problems..
28.Mar.2005 - Rsync server now online thanks to http://sin.khk.be !!
25.Mar.2005 - New Belgium based mirror added. Cheers ;)
15.Mar.2005 -

There will be delay in the new version as real world stuff is getting in way of dev time. The good news is that it will be a bigger update than predicted. More info will be posted when available.

14.Mar.2005 - Wireless Discount at fabcorp for forum member. More here
20.Feb.2005 - a new http mirror has been added. More here
02.Feb.2005 -

a new version of STD will be released by end Q1 2005

17.Jan.2005 -

new project owners fat and Corwin.

Read more on the forum here
09.May.2004 - Mirror List Updated
01.May.2004 - The Knoppix-STD 0.1 CD also for sale if you don't have the bandwidth to download or just want to support the cause.
Please e-mail feedback to fat [See Contact page linked from home]